Tarrah's Healthy Banana Bread
Marz7215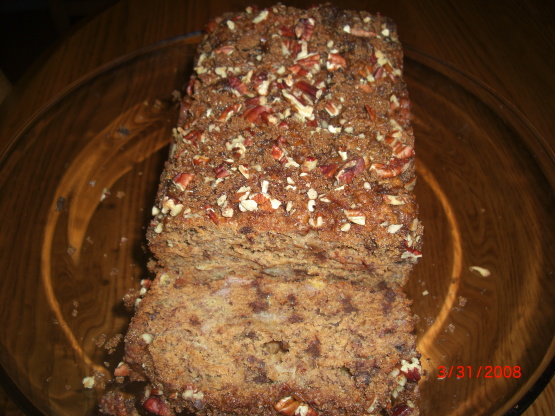 I couldn't find a recipe I liked for a healthy version of banana bread, so I improvised and made my own. It came out really good!

I thought this banana bread was very nice. I loved the crunchiness that the topping gave, and how moist it turned out! I think next time I will try honey instead of agave nectar (to me it gave a strange after taste). Made this for PAC..spring2008. Thanks for sharing!
Smash bananas into a pulp and set aside.
Combine all dry ingredients.
In separate bowel, combine oil with natrual sweetner and vanilla.
In three intervals, add flour mix. to oil mix. alternating with banana pulp until all is combined into a smooth batter.
Pour batter into loaf pan (if using small loaf pan, you may have to divide the batter between two pans).
Sprinkle brown sugar and nuts on top of batter and bake loaf(s) at 350 F for 50 to 60 minutes or until a toothpick comes out clean when inserted into loaf.
When done baking, switch oven to broil and leave loaf there for about two to three minutes or just until brown sugar begins to carmelize. Then remove from oven and enjoy!