KateL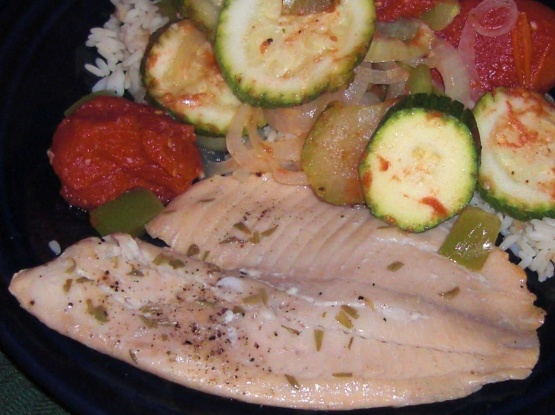 I love to use fresh Basa for this, but it has also worked well with tilapia. It would probably work well with any of the more delicate, white-fleshed fish filets. I love the fresh French tarragon I grow in my garden the most, but dried will work well, too. Lovely served with steamed fresh veggies from the garden.

Top Review by KateL
5 Stars, nice clean taste with minimum effort, used fresh tilapia and dried tarragon (no fresh tarragon at the local grocer's), with Pouilly Fuisse (French Chardonnay). Could not taste the wine, but enjoyed the touch of tarragon. DH said he preferred dry sherry (normally without tarragon), as we like the taste of sherry when we poach fish. Served with Recipe #313161 #313161 atop steamed white rice. Thanks for posting, SusieCat too. Made for 1.2.3 Hit Wonders.
Spray a pyrex baking dish with nonstick spray.
Add the fish filets, then pour the wine over the fish.
Place one sprig of tarragon on each filet, or dust lightly with dried tarragon.
Salt and pepper to taste.
Bake, covered, at 400F for 15-20 minutes, depending on thickness of fish.