Parsley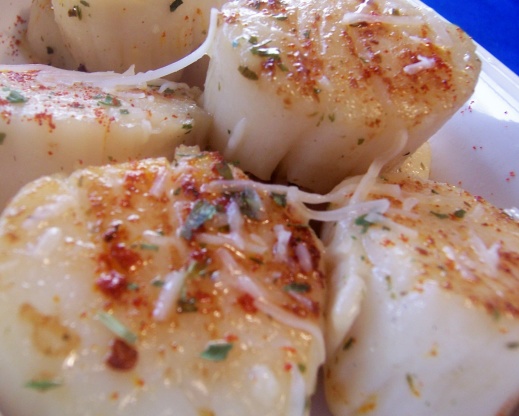 This is an quick and easy scallops recipe. Make sure to use "dry" sea scallops (the ones without any water added). Simple and delicious.

Quick and delicious recipe! After purchasing a bag of frozen scallops on sale at Target, I was at a loss for a recipe. While the scallops thawed in a collander, I sauted the garlic with 4 minced green onions. Instead of tarragon, I used dried basil from my garden and then served the scallops over angel hair pasta. Next time, I will definitely use more garlic and herbs.
If some scallops are a lot larger than others, you may want to cut the larger ones in half.
Rinse scallops and pat dry with paper towels.
In a skillet heat butter over medium-high heat. Add the garlic and lightly sautee for about 1 minute.
Add scallops and tarragon. Cook for about 6-7 minutes or until scallops are opaque; turning each once halfway through cooking.
Sprinkle with paprika and parmesan cheese and serve immediately.