lazyme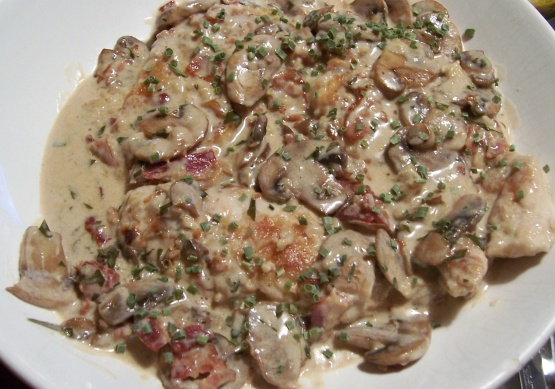 Flexibility is the secret to this recipe. If you don't have the wine, you can use chicken broth. Can't find prosciutto? You can substitute bacon or omit entirely. Quick and simple.

Top Review by JGB18
Very good recipe. I used ham instead of bacon or prosciutto, as I was trying to get rid of the leftover Christmas ham (The website pulled recipe up for a "ham" search.) I had to add extra salt to make up for the pork difference. Nonetheless, an average rating of 4.67 stars was pretty good for my family.
Season chicken with salt and black pepper.
Dust each breast with flour, shaking off any excess.
Saute chicken in olive oil in a saute pan coated with cooking spray.
Cook until lightly browned on both sides, 5-7 minutes.
Remove chicken, set aside, and keep warm.
Saute mushrooms and prosciutto (or bacon) in the pan until browned.
Add wine (or broth) and heavy cream.
Return chicken to pan, reduce heat and simmer until sause thickenslightly, about 8 minutes.
Stir in tarragon and vinegar; cook 1 minute.
Garnish with chives.
Serve chicken over slices of toasted bread.
Serves 4.