Tarragon Chicken All-In-One Meal
PanNan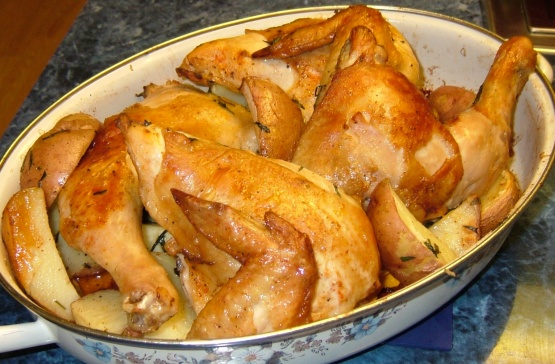 This is a Sunday favourite - very tasty and easy, just put the whole meal into the oven and wait. Use whatever pieces of chicken you have available - bone on is good, I typically use legs. The recipe is my modification of a typical English Sunday roast.

I can't believe this hasn't been made and reviewed since 2006. Such tasty chicken with a blend of flavors that can't be beat. We loved this and I look forward to making it again! Yummy!
Chop the tarragon finely and divide in half - use half for the potatoes, half for the chicken.
Cut the potatoes in wedges and mix with half of the tarragon, pour over the butter and season with salt and pepper. Make sure the potatoes are coated evenly.
In a separate dish, mix the pieces of chicken with the rest of the tarragon, and season with salt, pepper, soy sauce and paprika.
Put potatoes and the chicken skin down to an ovenproof dish and but into oven 230 C for 20 minutes.
After 20 minutes, turn the chicken around so that the skin is upwards and turn the potatoes around a bit so they don't burn. Put back into the oven for another 20 minutes.
After another 20 minutes, make sure that the chicken is properly cooked. Cooking time will vary slightly according to the size of the chicken pieces.