Taro, Pineapple, Sweet Potato and Bacon Chips
lazyme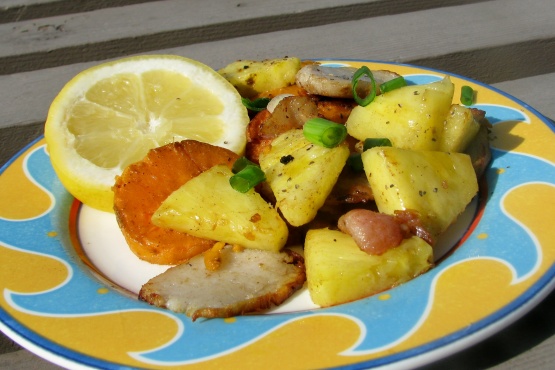 Top Review by lazyme
This was a fun recipe to make - and good too. I've had taro in restaurants before but never had prepared it at home. I remembered hearing somewhere that you need to prepare taro correctly, otherwise you could get sick. So I googled to find out how long to boil it. I found sites that said to boil it with skins on, skins off, from 8 minutes up to 1 1/2 hours. Then there were warnings about wearing rubber gloves because some people would end up with stinging hands when peeling it. I got to the point where I was asking myself if I really wanted to make this recipe, lol. I finally found one place that said that you could microwave a small root for 4-5 minutes. So that's the way I cooked the taro, and it worked really well.

I made the recipe as directed from that point on, but I did change the oil/butter for each batch as it was turning an ugly color, lol. I'm really glad that I made this and it was really a great snack. The taro tasted like a nutty potato and mixed with the sweet potato and pineapple really well. Thanks for a fun and tasty recipe, my dear friend. Made for ZWT7 for the Emerald City Shakers.
Cut taro and sweet potato into 1/2" thick slices and steam or boil until tender but still firm.
Drain, spread to cool, then cut into chips about 1" x 1/2".
Cut pineapple slices into similar size and bacon into 1/2" wide strips (The gammon style bacon is best for this or get bacon ends from a good butcher shop).
Heat oil and butter in a heavy frypan and fry taro/sweet potato chips until golden and brown.
Remove, drain and place on absorbent towel then keep hot in oven at 200 deg. F. In the same pan saute' pineapple.
Then fry bacon until crisp. In a bowl quickly combine the hot chips, pineapple and bacon and toss lightly with green onions.
Sprinkle with pepper, salt transfer to serving dish and garnish with lemon slices.
Serve immediately.