Taqueria Victoria's Banana Cake
Kippy2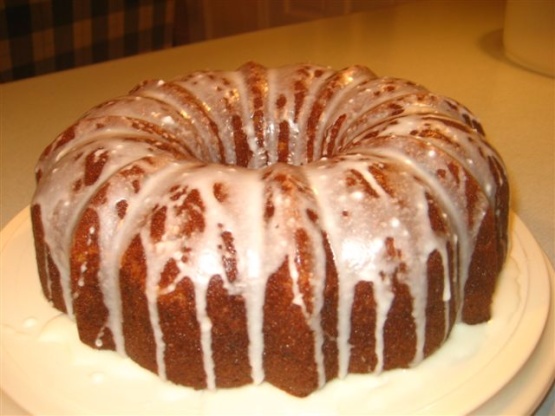 This is a recipe I got from my Roping the tastes of Texas cookbook. The recipe originated in a restaurant in 1985 in Victoria Texas. This one is so good it will actually melt in your mouth! Times do not include cooling time.

This cake is very moist and has a great banana flavor. I agree with other reviewers that the 3 cups of sugar is too much, when I make this again, I will cut that by half. Also, the baking time stated is not long enough. I used a Bundt pan and my cake took a little over an hour before it was done. The top was getting too brown, so I covered it with foil and lowered the oven temp. to 325 degrees F. I also added a little vanilla extract to the cake. I would make this cake again.
Preheat oven to 350°.
Grease and flour a 10-inch bundt pan; set aside.
Place sugar in a large mixing bowl, in the order listed, stir in eggs, butter, baking soda, sour cream and bananas.
Add and stir in flour 1 cup at a time until just mixed.
Spoon batter into the prepared pan and bake 45 minutes or until a toothpick inserted near the center comes out clean.
Cool cake in pan for 30 minutes on a wire rack. Remove from pan and cool completely.
Sprinkle cake with powdered sugar, if desired.