Tapioca Pudding - Easy Microwave Method
Bobbiann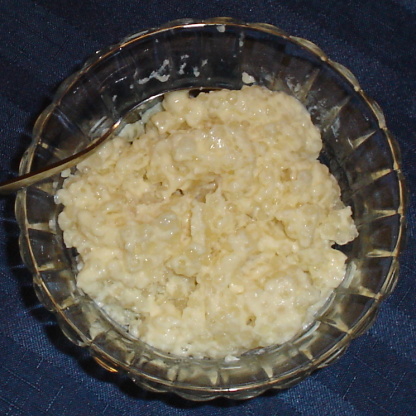 Here is an old-time favorite prepared by an updated method. I searched high and low for a good recipe for smooth tapioca pudding and this is my favourite. I sweeten it with maple syrup but you can use something else. Needs to soak overnight. Note: This pudding will thicken as it cools.
Soak 1/2 cup tapioca in 1 cup of milk overnight in the refrigerator.
Pour 3 cups of milk into a 2 quart microwave-safe glass bowl or measuring cup. Add the soaked tapioca and maple syrup with a whisk. Microwave on high for 6 minutes and stir thoroughly with a whisk.
Microwave on high again for 2 minutes, whisk and microwave 2 more minutes. Do not let it boil over.
Add eggs and microwave 2 minutes. Whisk and microwave 2 more minutes.
Stir in the vanilla and pour into individual serving dishes or a serving bowl. Chill and serve.
Chocolate Tapioca: along with the vanilla, add 6 oz. (1/2 cup) semisweet chocolate chips and whisk until they are melted and blended.