Tapenade (Barefoot Contessa) - Ina Garten

My favorite tapenade. My aunt made this for our one of our Thanksgiving appetizers and I loved it!
Directions
Combine the olives, capers, anchovies and garlic in a food processor fitted with a steel blade, and pulse 3 times.
Add the olive oil, lemon juice, mustard, thyme and parsley and process until chunky.
Serve on toasts.
Most Helpful
It is a very Tapenade! Similar to mine,but with fresh herbs and Dijon added; a nice surprise and we loved it. I did cut down the olive oil to 1/4 cup.Thanks for posting. I made this for ZWT5. Rita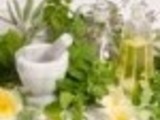 I took this to a meeting tonight and everyone loved it. I have 2 people who want me to email the recipe. I thought it was a great balance of ingredients. The lemon juice is a great addition. I added lemon thyme because hat is what is in my garden and it really is nice. Thanks, I will definitely make this again!