Tapas - Scallops in Saffron & Rioja Wine Sauce
Satyne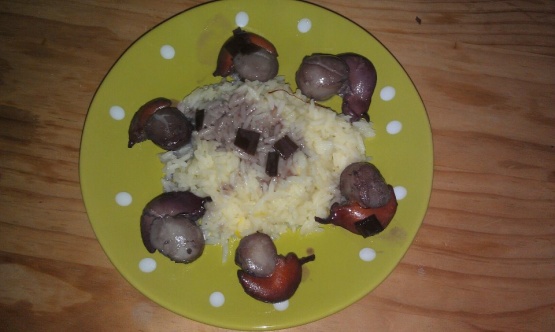 Prepared in advance, these cook quickly so you can relax & mingle with your guests at your tapas party! If you can't find Rioja, substitute with another (preferably Spanish) red wine.

Top Review by Popcat
WOW! This was wondeful! I like to try new recipes with ingredient combinations I haven't had before - scallops, red wine and saffron - what a combo! I doubled the recipe to serve as an entree with brown rice. I didn't have shallots, so I substituted half an onion (for the double recipe) and it was fine. I made Auberge Creamed Carrots for a vegetable. The cooking time was right-on also. My wife is very picky about overcooked seafood = she loved it also and thought it was cooked just right! A wondeful dinner - thanks CountryLady!
In a saute pan over medium high heat, add olive oil and butter.
When butter melts, add the shallots, saute for 30 seconds.
Add the scallops and wine.
Turn scallops and add saffron.
Season with salt.
Cook until scallops are golden brown, about 30 seconds to 1 minute.
Remove from heat and serve hot.