Tapas - Chicken & Roasted Red Pepper Skewers
Bergy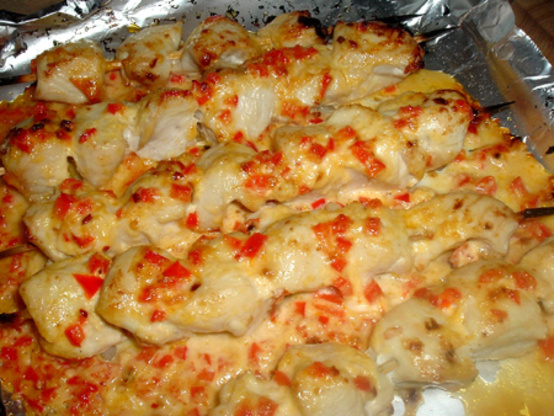 Another good tapas that can be prepared in advance of the party! You can also make this with a firm fleshed fish, such as halibut or tuna. Don't forget the Sangria!

Top Review by CDove
I give 3 starts for ease, this is a super easy to make tapas dish. Mine turned out to be bland... I agree it needs an extra 'zing." For the tapas party I threw this was the only thing left on the table at the end of the night. But if you are a mayo lover and need an easy quick dish, this is a great option!
Soak 12 8" wooden skewers in water for 30 minutes.
Thread chicken pieces onto skewers evenly & place in shallow baking dish.
Combine remaining ingredients until well blended, pour over skewers & marinate in refrigerator for a minimum of 30 minutes but preferably a couple of hours.
Remove skewers from marinade (discard leftovers) & place skewers on the rack of a broiler pan.
Broil 4 - 6 inches from the heat for 10 minutes, or until chicken is cooked, turning occasionally.