Taos Chicken Enchilada Casserole
lazyme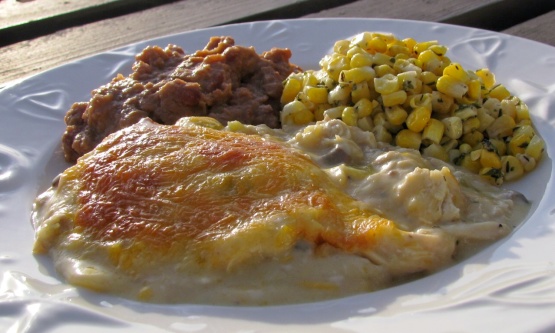 Recipe is from Roberto's Restaurant in Taos, New Mexico. A more modern version of chicken enchilados and much easier too.

Top Review by lazyme
Yummy casserole. I knew that we would enjoy this one because I've been making one very similar for years that just happens to be my grandson's favorite. I used flour tortillas that I cut up and a Mexican blend cheese. I used recipe http://futureexpat.com/2014/11/crock-pot-beer-shredded-chicken-recipe/#comment-26610 for the chicken which had a nice flavor too. Thanks for sharing, Nancy. Made for For Your Consideration tag.
In a medium saucepan place both soups, water and green chilies. Stir the ingredients together and bring the mixture to a boil. Turn off the heat.
In a large well-greased casserole dish place 3 of the tortillas in a staggered pattern. Sprinkle on 1/4 of the cheese. Add 1/3 of the chicken. Spoon on 1/3 of the soup mixture. Repeat the process two more times. Stagger the tortillas differently for each layer.
Top the casserole with a layer of the cheese. Preheat the oven to 350 degrees. Bake the casserole for 1 hour, or until it is hot and bubbly. Prep time does not include cooking time for chicken.