loof751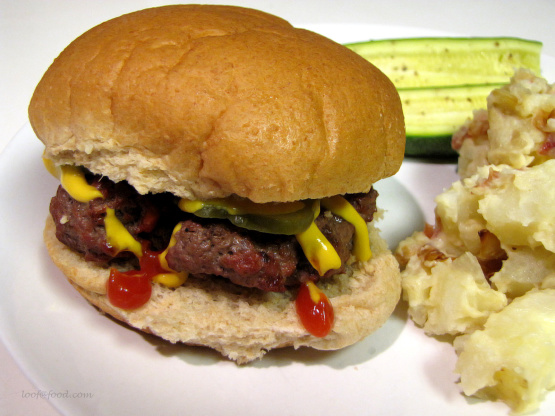 I'm surprised this isn't already in the system... I originally clipped it from a Sunday Parade Magazine insert (the "People Magazine" type supplement to nationwide Sunday papers and it was called "All-American Burger". These are excellent burgers. Whenever I serve them to company, people rave and ask for the recipe. We don't eat burgers often, but these are fabulous and won't disappoint.
Combine ingredients and mix well.
Form into 4 quarter pound patties (or smaller for children).
Cook on preheated grill or broil to desired done-ness (recommended to internal temp of 160 F).
Top buns with desired condiments and toppings (we top with tomato slices, lettuce, red onion slices, pickles, and condiments).
Enjoy!