Tantalizing Roasted Vegetable Sandwich With Secret Spread
childerz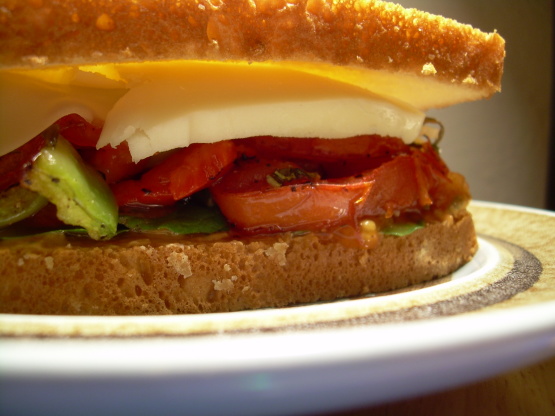 HOLY COW, this sandwich is marvelous. I'm only 3 bites into this amazing creation, and I had to come post this recipe lest I forget it. You can vary in any way you like from the original recipe, but the most important part is the cream cheese spread! (Do note that the measurements are approximate, as I didn't measure while inventing this sandwich, and adjust accordingly.)
For the sandwich: Preheat oven to 400 degrees Fahrenheit. Put 2 tbsp of balsamic vinaigrette into a small bowl, and add tomato and green pepper slices, turning to coat. Put on a pan and sprinkle with the finely chopped basil, and salt & pepper. Roast for about 20 minutes, or to your liking.
For the spread: Put all the spread ingredients into a blender or food processor and process until a smooth paste has formed (more or less).
To assemble: Spread the spread over two slices of bread. Layer the arugula leaves and the fresh basil leaves, followed by the roasted red pepper. When your tomatoes and green peppers are done roasting, layer them on. Top with the sliced mozzarella while it's still hot-- so the cheese melts.
Enjoy!