Tangy Sweet Shredded Beef Barbecue
Karen..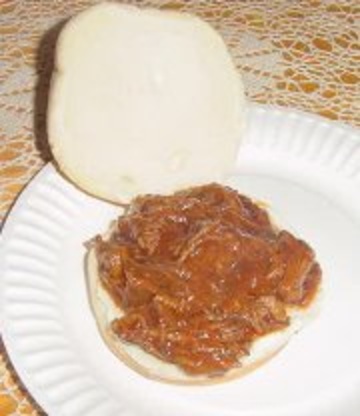 This is a great BBQ Beef recipe that makes the most awesome sandwiches. These are a wonderful alternative to plain burgers and much more zingy! Never have any left-overs with these :)

Top Review by B.A.B
This is such a DELICIOUS recipe!!! I made a double batch to feed all of our relatives and cooked it in a crockpot on low heat for 8 hours. It was so tender and so flavorful. Didn't change the recipe one bit, and I didn't need to! It is already perfect as is. I can't wait to make it again.
Combine all ingredients in dutch oven or other large pot and cook at low heat allowing to simmer slowly for about 4 hours, turning meat and stirring occasionally (If making in crock pot, cook on high for 5 to 6 hours).
Remove meat and shred with fork, discarding fat.
Put the meat back into the liquid and simmer for about 30 more minutes.
(If using crock pot just turn to low until ready to serve) Serve on your favorite buns or rolls.