Tangy Surprise Shortbread
Pamela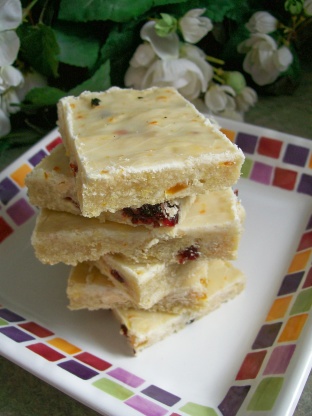 Submitted for RSC #9. I used the base from another shortbread recipe that I knew worked and went from there. I really liked the orange flavor and fruits in this. This shortbread is a soft one not the dry crumbly kind. If you've never made shortbread before the dough may seem dry to you but if you press it firmly into the pan and prick it all over the fork it will hold together. It ends up kinda like a bar cookie. The glaze is sweet so I made it optional.
Shortbread:.
Preheat oven to 350°F.
In a small bowl or cup stir together diced dried apricots, dried cranberries, cointreau and 1/4 cup fresh squeezed orange juice. Let sit for 15 minutes or more.
Melt butter in microwave.
In a large mixing bowl combine melted butter and 1 tablespoon of orange zest. With an electric mixer on medium speed beat in brown sugar,powdered sugar and vanilla.
On low speed beat in flours 1/2 cup at a time, scraping the sides down after each addition until mixture resembles soft crumbs.
Drain dried fruits and reserve liquid for glaze if desired.
Stir dried fruits and white chocolate chips into the shortbread dough.
Press dough evenly into an ungreased 15x10 cookie sheet with 1/2" sides. Prick the top all over with a fork.
Place on the middle rack in preheated oven and bake for 18-22 minutes until firm to the touch and very lightly browned around the edges.
Let cool 5 minutes. Cut into 48 squares with a sharp knife while it's still warm.
Optional Glaze:.
In a small bowl stir together sifted powdered sugar, orange zest, cointreau and fresh squeezed orange juice until a thick pourable consistency is reached.
Pour glaze over cooled cut shortbread still in the pan and spread in a thin even layer with a spatula. Let glaze harden.
Lift out squares with a butter knife inserted under the edge of them.