Tangy Shrimp-Noodle Salad
IngridH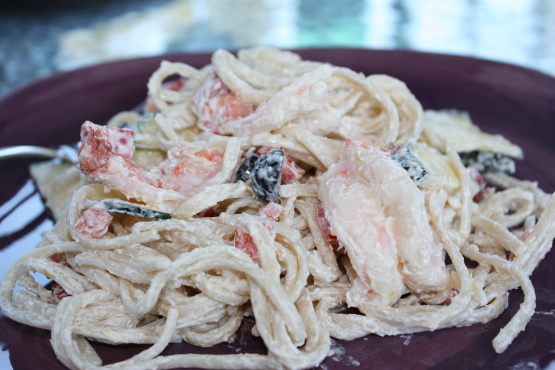 This recipe was clipped from an old issue of the Houston Chronicle. It's a nice, light and fresh salad, great for a luncheon or a light supper. Cook time does not include the suggested 2 hours to chill before serving.

The dressing on this recipe is absolutely outstanding! I really like horseradish, and I was pleased that the flavor of it really comes through in the dressing. That said, however, I felt that there was way too much dressing for the amount of noodles called for. To compensate, I cooked another half batch of noodles to add, which helped, but they were still heavily dressed. I also thought some chopped fresh herbs would really add to the overall taste- maybe some basil, tarragon or thyme. Thanks for giving me a really nice cold meal for another hot summer day!
Break the spaghetti in half and cook according to package directions. Rinse in cold water and drain well. Put in a large glass salad bowl.
Peel and devein the shrimp. Slice the zucchini. Cut the red pepper into thin strips.
Put the shrimp in a 4-cup glass measure; top with plastic wrap and vent. Microwave 1 1/2-2 minutes; stir; microwave another 1 1/2-2 minutes.
Add shrimp, zucchini, red pepper, and olives to spaghetti in salad bowl.
Combine yogurt, sour cream, horseradish, and lemon zest and mix well.
Toss dressing with pasta salad mixture. Refrigerate at least 2 hours before serving.