lazyme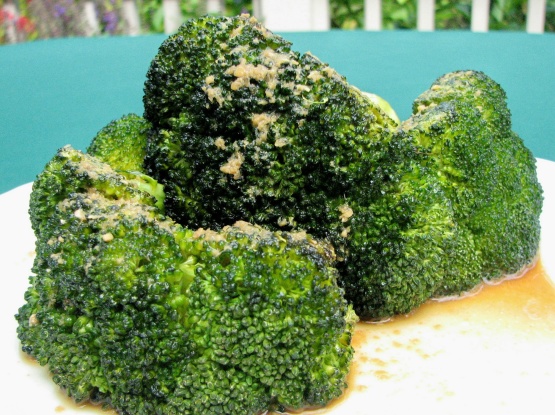 Roasted broccoli dressed with a tangy Asian style dressing.

We really enjoyed this recipe. I substituted a tiny bit of maple syrup for the sugar. I warmed up the dressing in a saucepan before pouring over the broccoli to make sure it didn't cool down the dish. Liked the flavours, thanks for sharing.
Preheat oven to 500 degrees.
Cut broccoli bunch in half lengthwise.
Toss with olive oil and place on cookie sheet.
Cook broccoli in oven turning occasionally with tongs - 10 to 12 minutes.
Dressing: While broccoli is roasting place lemon juice, sesame oil, soy sauce, ginger, garlic, sugar and oil in a blender or small food processor. Blend until smooth.
When the broccoli has finished roasting, transfer to a serving dish and pour the dressing over.