ImPat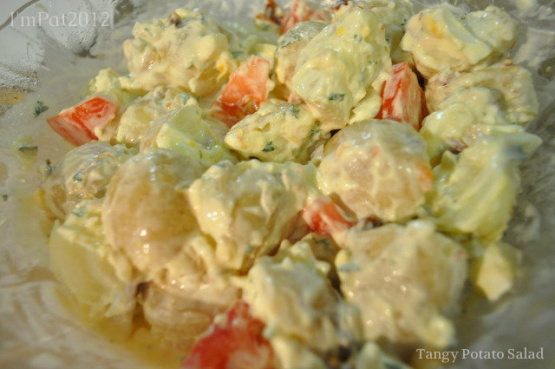 Posted for ZWT for Germany. Comes from Allrecipes.

Top Review by ImPat
The flavours of this potato salad were superb. I used baby Nadine potatoes which I boiled and just quartered (didn't peel), the only change I would make is to slowly add the stock to the mayonnaise until you get the consistency you like, as I added the moyonnaise to the stock and is was to thin for my liking so added heaps more mayonnaise but used only a small portion of it so depending on how you like to coat your salad that is my suggestion but all the flavours of all the ingredients speak for themselves and make a delicious potato sald I would be pround to serve up to anyone, thank you Boomette, made for 123 Hits tag game.
Cook potatoes in boiling salted water until tender. Drain; cool slightly.
Peel and slice potatoes; combine with onion, eggs, pickles and parsley in a large salad bowl. Set aside.
Heat chicken broth until warm; remove from the heat.
Add mayonnaise, salt, pepper and garlic powder; mix until smooth. Pour over potato mixture and mix lightly. Cover and chill.
Just before serving, gently stir in tomatoes and bacon.