Tangy Orange and Spinach Salad
Rita1652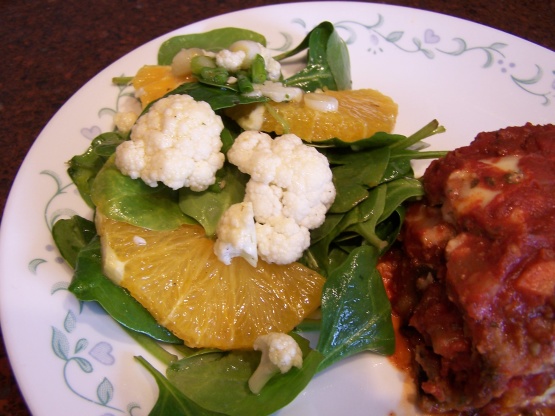 I don't remember where I got this recipe, but it's my grandson's favorite salad. It's simple and good. The cook time is actually the chilling time.

Refreshingly crunchy and crisp!!!! I made 1/2 the recipe using 1 large orange. I didn`t use the zest. I did make my flowerettes very small. A quick blanch and quick chill in a ice bath would be good to do to the cauliflower before adding to the salad. I did substitute raw honey for the sugar. Thanks.
Combine lemon juice, sugar, oil, lemon rind, salt, and marjoram in a large bowl; mix well.
Add the cauliflower flowerets, and green onions to the marinade.
Toss lightly to coat well.
Cover and marinate in refrigerator 30 minutes, stirring occasionally.
Tear spinach into bite-size pieces. Cut oranges crosswise into 1/2 inch slices.
Add the spinach and oranges to the vegetable mixture.
Toss lightly and serve.