Tangy Greek Chicken Soup (Crock Pot or Not)
Kathy228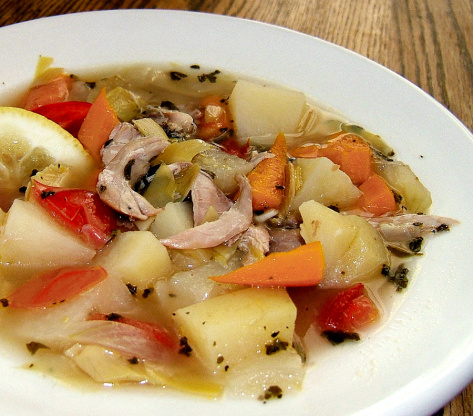 I created this soup with all of our favorite flavors and ingredients in mind. You may omit the vinegar, if you would like it less tart. Cook time includes 6 hours in the crock pot. A special thanks to Susie D for including this in her best of 2016 collection!

grrrrr... YummY! Spiced it on the heavy side, and used chicken tenderloins. Other than that recipe went unchanged and was excellent! That touch of tangy-ness is exactly what chicken soup needs these days. Thanks Maito!
Place all ingredients in a crock pot. Cook 1 hour on high, then 5 hours on low (or 7 hours on low, if you are not available to switch crock pot from high to low).
If you don't have a crock pot, soup can just as easily be simmered for a long time on the stove, until the chicken is falling apart, about 3 hours.
Before serving, break up chicken into large bite size pieces, and taste for salt.