Tangy Chuck Wagon Pot Roast
moxie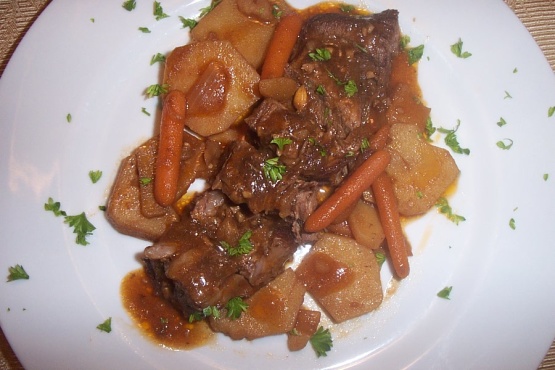 This tastes even better the next day! You can follow the directions here OR put everything in a crock pot after browning the beef & cook on low for 8 to 9 hours. Your choice of your favourite BBQ sauce will determine just how much tang is in the dish!
Pat roast dry with paper towels; sprinkle lightly with salt & pepper.
In a heavy pot or Dutch oven, heat oil until hot; add roast & cook until browned on all sides.
Remove from pot & keep warm.
Pour off any excess fat.
Add next 7 ingredients& mix well.
Return beef to pot, cover & cook in a preheated 350F oven for 1 1/2 hours.
Spoon off any excess fat.
Add vegetables, bring to a boil, reduce heat, cover & simmer for about 1 hour or until beef is fork-tender & veggies cooked to your liking.