Tangy Chicken Noodle Bake
Hey Jude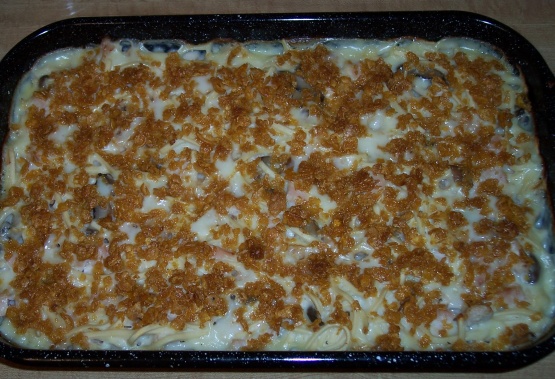 A real downhome casserole that uses leftover chicken. Turkey could also be substituted for the chicken.

This was so easy and really good. I doubled the recipe, used spinach noodles and one cup of half and half in place of milk. I used fresh sauteed mushrooms. I added 1 tsp onion powder and 1/4 tsp garlic powder. I took it to work and it was very well received. Thanks for posting.
2⁄3 cup corn flake crumbs

2

tablespoons butter, melted

2

cups egg noodles
1⁄2 cup flour

1

cup milk

2

cups water
1⁄2 cup sour cream

2

cups cubed cooked chicken

1

cup canned mushroom slices
Combine cornflake crumbs and butter.
Set aside for topping.
Cook the noodles according to package directions.
Drain and set aside.
In a saucepan, combine the flour, milk, water, and bouillon cubes.
Cook until thickened and bubbly.
Remove from heat.
Stir in the sour cream, chicken and mushrooms.
Add the cooked noodles.
Put in greased casserole dish.
Sprinkle with buttered crumbs.
Bake at 400 degrees for about 20 minutes or until it bubbles.