Tangy Cauliflower With Peanut Sauce
Rita1652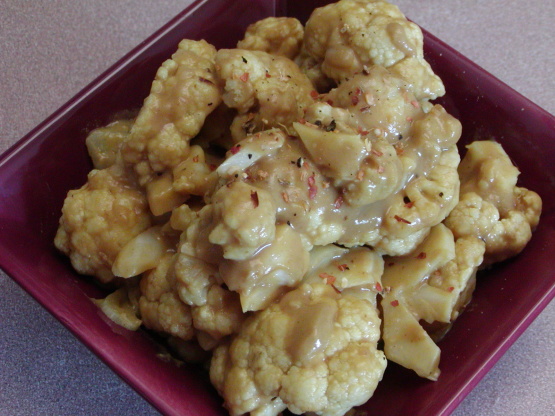 This is such a refreshing way to use cauliflower. I can eat the whole thing by myself...and sometimes I do. This is also nice with some chopped nuts sprinkled on top. UPDATE: On 01/14/08 I made this the way Rita describes....cooking it all together but upping the apple juice with 2 more tbsp It worked well and cuts out a step. Thanks Rita, for a lovely idea!

Tasty, but needed some salt. I added a tablespoon of soy sauce to the peanut butter mixture before tossing with the cauliflower. I liked it, but it seems like it's missing something I can't put my finger on.
Over medium-high heat, cook cauliflower in small amount of water until just fork-tender. Drain & set aside.
Combine rest of ingredients in small saucepan & bring to a low simmer.
Continue to cook, stirring occasionally, until mixture thickens enough to adhere to back of spoon.
Toss sauce and cauliflower together & serve warm or at room temperature.