Tangy Carrot-Apple Salad With Cider Vinaigrette
Zurie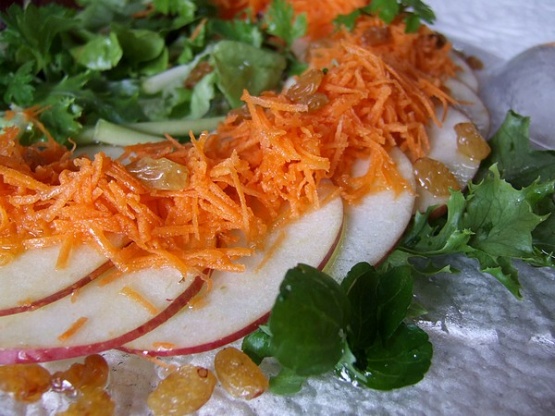 Recipe from October 2010 Vegetarian Times. It says that the author, Matthew G. Kadey, RD, prefers sour to sweet and this recipe proves it. I did add a little extra Splenda, oil and a squeeze of fresh lemon juice, but I leave that up to you! I did not serve mine over spinach, rather just in a small bowl as a meal starter. Lastly, I added some pepitas (pumpkin seeds without the shell), but again the addition of nuts is your choice.

Made as written except for subbing baby arugula for spinach leaves. I thought I was
smart using some apple cider vinegar in water to acidulate the apples No, wrong. I forgot that apple cider vinegar turns apples brown. Tasted good though. Used dark agave this time for a change and orange essence dried cranberries. I think fresh cranberries would be yummy, too! Perfect salad for this time of year! Reviewed for Veg Tag/September
Combine cider vinegar and garlic in small bowl. Let stand 15 minutes.
Stir together carrots, apple, green onions, parsley, and cranberries in large bowl.
Whisk together agave nectar and oil into cider vinegar mixture. Add to carrot mixture, toss to coat. Season with salt and pepper, if desired.
Cover, and chill 2 hours, or overnight. Serve salad on bed of spinach leaves.