Tangy Buttermilk Cheese Bread for Your Bread Machine
twissis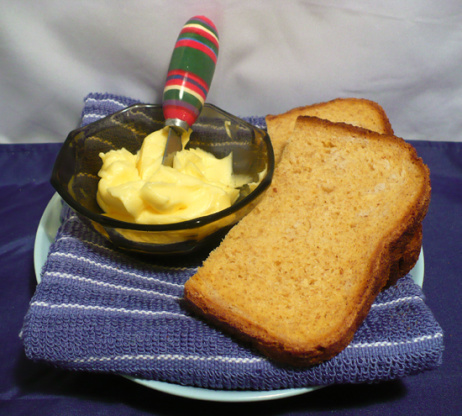 A nice change from a traditional loaf of white bread.

It didn't rise as much as I would have liked so it turned out to be a bit of a dense loaf, but the flavor of this bread is fantastic! Both my kids (and me) are munching on it like mad. I did the dough in the bread machine then baked it in a loaf pan. I had to add a bit of olive oil when the dough wasn't sticking together (suppose I could have used a bit more buttermilk). Very nice bread. I will try it again and see if it raises better next time, as it could have been the yeast I was using.
Place ingredients in bread machine pan in the order suggested by the manufacturer.
Select White Bread setting. Start.
To bake bread in oven: select dough or manual cycle.
Once cycle is complete, shape dough and place in a greased loaf pan.
Allow to rise in a warm spot until doubled in size. Bake in a preheated 350 degrees F (175 degrees C) oven for 35 to 45 minutes.
In my Bread machine start to finish is 2 1/2 hours. This makes a 1 1/2 pound loaf.