jonesies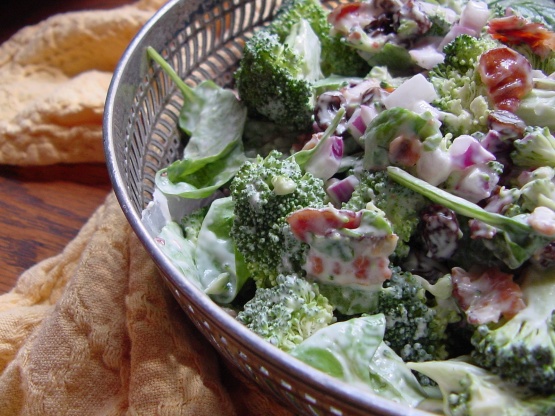 Got this from a friend, but it's a Kraft recipe. A little different, with the addition of fresh spinach. It's been adapted a bit.

Top Review by GaylaV
Yum, yumm! This is such a tasty salad although I do need to do some serious adjusting to the fat content next time. I think I can cut the bacon in half without damaging the end result too much. It is a nice mix of a spinach salad with a broccoli salad. I did use craisins instead of raisins because I had a package opened. I don't think it damaged the salad any and the colour is pretty. Thanks for a great recipe.
Mix dressing, sugar and vinegar in large bowl.
Add remainig ingredients and mix lightly.
Refrigerate.