Alskann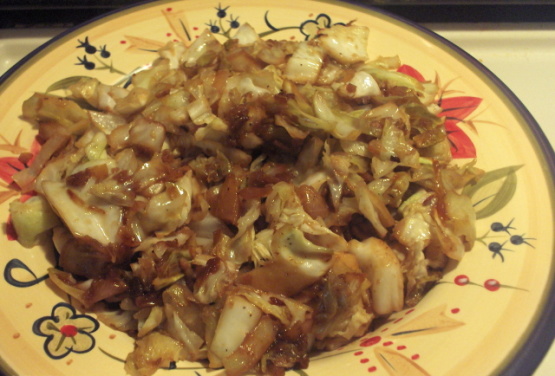 Posted for Zaar World Tour 2005. Yes, there are other braised cabbage recipes posted, but this not only looks different, it happens to be the lowest fat dish in a cookbook full of very high fat recipes. It also is a breeze to make and utterly delicious. I'm a sucker for caramelized anything. If you prefer a sweeter taste, add a bit more sugar. From a cookbook called The New Irish Table.

As horseradish addicts, hubby and I loved this. It's tasty and easy to make -- I used half a head of cabbage and the full amount of everything else. Two teenage exchange students weren't as keen, but what do they know?
In a heavy saucepan, heat the sunflower oil over medium heat.
Add the shallots, cabbage, horseradish, garlic and ginger and saute for 5 to 8 minutes, or until the cabbage starts to wilt.
Stir in the sugar and cook to caramelize the cabbage lightly.
Add the vinegar and lemon juice and stir to scrape up the browned bits from the bottom of the pan.
Season with salt and pepper and serve immediately.