BarbryT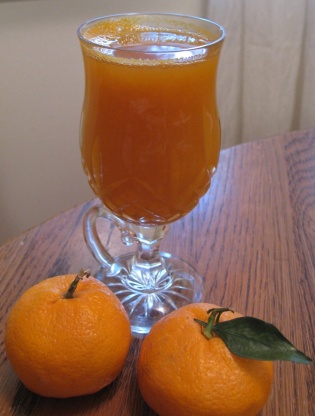 A nice tea for Tangerine Lovers!

I made this with fresh orange juice, orange pekoe tea, and Splenda. While I enjoyed it, I think I would like to try it with a different kind of tea (like Celestial Seasonings Bengal Spice). I think I would like more of a contrast in flavours (just a personal choice). Next time, I will use a cinammon stick instead of ground cinammon (because I felt the ground cinammon didn't blend as well as it should & left a residue). Made for Top Favorites of 2009 Tag-Feb'10.
Heat water to boiling in large saucepan.
Stir in tangerine juice, sugar, cinnamon and cloves.
Heat to boiling.
Simmer and stir until sugar dissolves.
Remove from heat and add tea bags.
Let steep 3 to 4 minutes.
Serve Immediately.