Tangerine-Sesame Noodles With Scallops
kolibri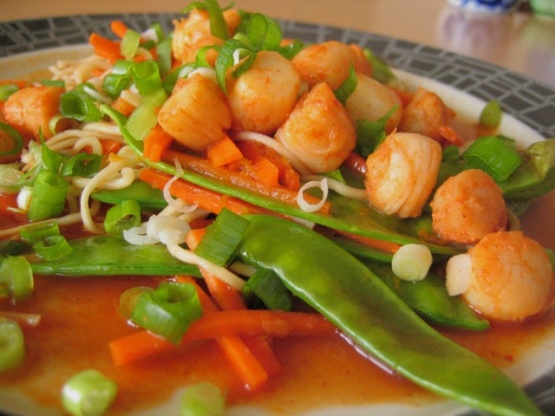 Nothing wakes up those taste buds like citrus. Here is a recipe with a twist. A twist of tangerine zest and fresh squeezed tangerine juice. This will keep them coming back for more. Recipe was adapted from Prevention Magazine.

For substitution I used oranges for tangerines (as they're not in season). And wow - the marinade was absolutely fantastic. However I was disappointed that the tangyness and the freshness was overpowered almost completely by the snowpeas and the carrots, as happened with the scallops as well. I mopped up the sauce though with a piece of bread (Finnish rieska - recepie #81854 - this is what I call fusion cooking!) and it was delicious. I also found that it's quite easy to prepare ahead - let the carrots marinate in the sauce, and when you're ready put rest of the incredients together.
In a large bowl, combine the tangerine juice, soy sauce, peanut butter, toasted seasame oil, ginger, tangerine zest and half the pepper.
Place the peas in a steamer basket and over 1 inch of bowling water cook 1 minute.
Remove peas and rinse immediately under cold water; set aside and allow to drain.
Toss the cooked spaghetti with the tangerine mixture, peas and carrots; set aside.
Season the scallops with salt and remaining red pepper.
Heat olive oil in a large skillet over high heat.
Cook the scallops in batches, without touching each other for 3 to 4 minutes per side or until golden brown and cooked through.
Divide the pasta onto serving plates, top with scallops and sprinkle with cut scallions.
Serve immediately.