Tangerine Glazed Ham With Fresh Sage
Cathey56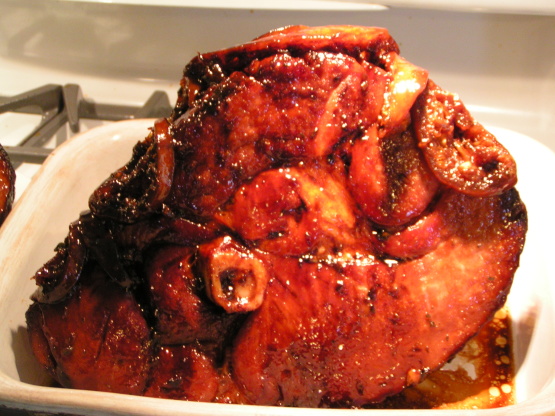 This recipe comes from Tyler Florence and makes the most magnificent and delicious ham we have ever tasted! It is beautiful when it comes out of the oven and the aroma while its cooking is just heavenly. I am posting the recipe as Tyler has written it, however, when I prepare this I make a few changes to lower the sugar and fat content in the glaze which are as follows: I reduced the butter to 1/2 cup unsalted butter and 1/2 cup smart balance spread; I reduced the brown sugar to 1 cup and added 1 cup of splenda mixed with a few tablespoons of sugar free maple syrup. I reduced the water content to 1/2 cup and only had to simmer for an additional 15 minutes to get the syrup texture. The substitutions work well, but I am sure this original recipe below will blow you away!

I found this recipe by accident about several years ago and it is now a family tradition for Christmas and Easter. My family can't get enough of it. I've never made it with carrots, not many of members of my family are crazy about carrots. I would recommend this recipe to anyone. Don't change a thing! It's moist and juicy, I have to hide the leftovers or there won't be any.
Preheat the oven to 300 degrees F.
Put the ham in a large roasting pan, fat-side up.
Using a sharp knife, score the ham with cuts across the skin, about 2-inches apart and 1/2-inch deep.
Cut diagonally down the slashes to form a diamond pattern; season the meat generously with salt and pepper.
Chop about 8 of the sage leaves and put it in a bowl; mix with the oil to make a paste.
Rub the sage-oil all over the ham, being sure to get the flavor into all the slits.
Bake the ham for 2 hours.
Assemble the glaze as the ham is baking.
For the glaze: Place a saucepan over medium heat.
Add the chunks of butter, tangerines, tangerine juice, brown sugar, water, and spices.
Slowly cook the liquid down to a syrupy glaze; this should take about 30 to 40 minutes.
After the ham has being going for a couple of hours, pour the tangerine glaze all over it, with the pieces of fruit and all.
Scatter the remaining sage leaves on top and stick the ham back in the oven and continue to cook for another 2 hours, basting with the pan juices every 30 minutes.
The ham is done when it is dark and crispy, and the whole thing is glistening with a sugary glaze.
Set the ham on a cutting board to rest for 10- 15 minutes before carving.
Serve the tangerine glaze on the side if desired.