Tandoori-Style Barbecue Chicken
GT in SA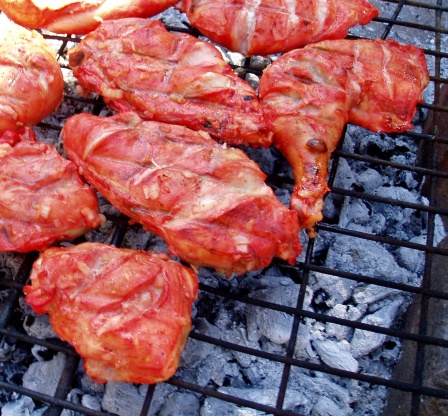 Tandoori-style marinade together with the smokiness of a barbecue (MUST BE WOOD COALS) lends an irresistible flavour to chicken. After trying many tandoori marinades and spice rubs, this one satisfies my taste buds and judging by the speed at which it disappears, also those of friends and family. Excellent when served with naan. Preparation time does not include marinating.

I really liked this chicken. I too have been looking for a good recipe for tandoori that doesnt use pre mixed bottled stuff. The colouring in that stuff scares me. I was really attracted to this recipe because of the pics. I marinated it for 2 days....it really helped the spices seep into the chicken. I like the addition of the onion which I don't normally find in other recipes. We grilled on a wood BBQ....it also makes a big diffrence.We didnt find ot dry at all even though it didnt have skin on and was juicy till the bone. We upped the chilli powder because of personal pref thats the only change I made. This was delicious esp with hot naan with a sqeeuze of lemon juice. YUMMY!
1

kg chicken piece, skin removed

Marinade

3

lemons, juice of

1

cup plain yogurt

1

large onion, chopped finely

4

teaspoons salt

2

teaspoons minced garlic

1

teaspoon minced ginger

1

teaspoon roasted coriander, ground
1⁄2 teaspoon chili powder
1⁄2 teaspoon red food coloring
Make 1 or 2 deep cuts in each chicken portion and place in single layer in non-reactive dish with lid.
Mix marinade ingredients and pour over chicken pieces, making sure all parts of chicken come into contact with marinade.
Marinade chicken in refrigerator for minimum 24h and up to 3 days, turning frequently.
Remove from marinade and grill on medium-hot coals until cooked through but still juicy.
Prepare to receive accolades.