Tandoori Chicken Burgers With Minty Cucumbers
Kitty Z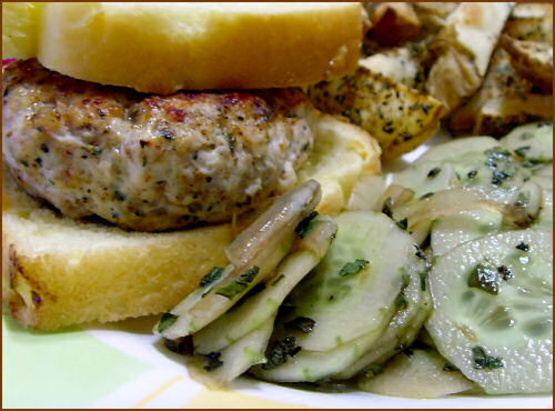 This is from my Low Carb Cookbook. I'm posting it for ZWT3. You can use ground turkey instead of chicken. I would serve these with home fries.

Very good burgers, served with pita bread. So easy, too. Enjoyed the cukes, absolutely loved the fresh mint here! That really grabbed me. Quick prep and wholesome for a busy week night. Glad I tried this.
In a large bowl combine bread crumbs, curry powder, salt and cayenne.
Add ground chicken and yogurt; mix well. Shape into 4 patties.
Grill for 14-18 minutes or until patties are no longer pink. Serve on toasted buns with minty cucumbers.
Minty cucumbers: In a medium bowl combine all of the salad ingredients. Toss well.