I was born in Tampa, so this recipe attracted me right away. The tea has orange and lime juice added to make it tastier and healthier! Enjoy! Adpted from The Vegan Chef.
Directions
Bring the water to a boil, add tea bags.
Remove from heat and allow to steep for 5 minutes.
Add sugar and stir until dissolved.
Stir in remaining water and fruit juices and chill for 1 hour or overnight before serving. Adjust to taste by adding more sugar if you desire.
Serve over ice with slices of lime for garnish. Enjoy!
Most Helpful
Very refreshing drink on a hot day. I used just a part of the sugar, and added a little rum to my serving - yup, refreshing!

This was absolutely delightful. I made this exactly as posted, except I did not add sugar. I prefer unsweetened iced tea and the juices made it plenty sweet enough for me. Late on a hot summer's eve, I decided to add some sweet tea vodka to my iced tea. Even yummier! Thanks for sharing this summertime treat!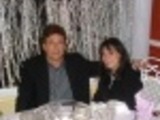 I needed this. It's a rotisserie out there. Made for PRMR.