Tampa Chicken With Couscous
Annacia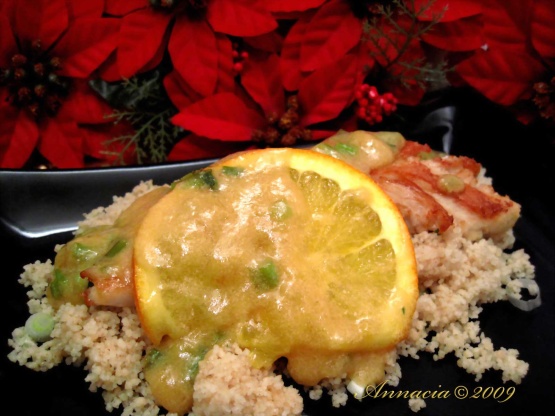 Here's another chicken recipe I clipped from a magazine in my "to try" file. It seems rich with an orange cream sauce, but "virtuous" because it is served with couscous..LOL...It sounds like it would be quick to throw together.

This is utterly delicious. I managed to get the onion parts backward but I don't think that the flavor suffered from my impetuous pourings. The sauce is really outstanding with my fat reduction. I used fat free evaporated milk for the cream with a touch of corn starch to thicken. Company worthy and faster than waiting in line at McDonald's (not to mention far superior!). Made for *Partying The Diabetic Way*
Cook couscous using the chicken broth and 1 tablespoon of the butter, following directions on the package.
Melt remaining tablespoon of butter and oil in a large skillet over medium-high heat. Saute the chicken, turning once, until golden and firm to the touch. This should take 5-6 minutes. Remove chicken from pan and cover with foil to keep warm.
Add the white part of the green onions, orange juice, cream and salt to skillet. Boil over high heat, scraping up any brown bits from the bottom of the pan. Cook 2 minutes to reduce sauce, stirring constantly. Add the.
orange slices and remove from heat.
Stir the green part of the onions into the couscous and spoon on to a serving platter. Arrange the chicken with orange slices on top of the couscous. Spoon the orange sauce over the chicken and serve.