Tamina - Algerian Toasted Semolina & Honey Sweet
Um Safia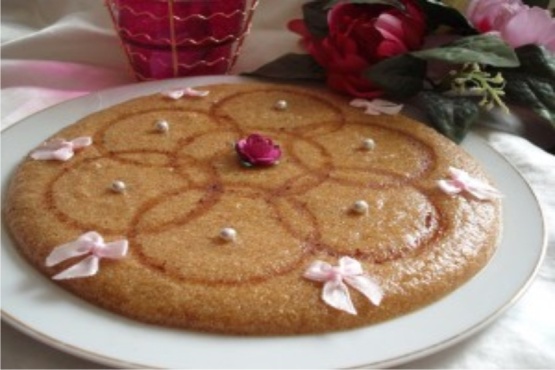 Tamina is a very old Algerian recipe. Traditionally it is served to celebrate the birth of a baby, however many people eat it whenever they get the craving for something seriously sweet! It is most commonly served in small plates & people each have a small spoon with which to eat it, you can of course, serve individual portions. Algerian children go crazy for this so don't forget a plate for them!

Once again I am saved by Um Safia with her truly authentic Algerian home recipes. I knew I had to make this but I didn't knwo the right measurements. I made this for my sister in law who had her third child last week. We all gathered around the tiny plate with our spoons and scarfed it down. I can't find anything but fine semolina here so I used 3/4 cup cream of wheat to get the proper texture and 1/4 fine semolina to get that semolina taste. Thanks Um Safia for putting this on Zaar and making everyone in my family so happy!!!
For The Tamina

1

cup of ground semolina (medium or coarse)

3

tablespoons unsalted butter (or margarine)

2

tablespoons of natural set honey

For The Decorations

silver dragees
paper tea roses
In a saucepan heat the semolina over a medium-high heat. Keep shaking the pan until the semolina is evenly toasted & a rich golden brown colour. Pour into a bowl & set aside.
Melt the butter / margarine in the empty pan you used to toast the semolina. Remove from the heat & stir in the honey.
Pour the semolina back into the pan & mix well to combine it with the butter & honey. If you notice the semolina mixture is too runny or has a little extra butter on top, just add a little extra semolina to the pan. If the semolina mixture is a little too stiff to pour, add 1 teaspoon extra of both the butter & the honey & mix well.
Pour the semolina mixture out onto a small dinner plate or side plate & decorate with the cinnamon, silver balls & any additional items you like ( I used satin bows & a paper tea roses in the pic ) To make a pretty pattern with the cinnamon, use the rim of a small tea glass or shaped cookie cookers dipped in the ground cinnamon.