JustJanS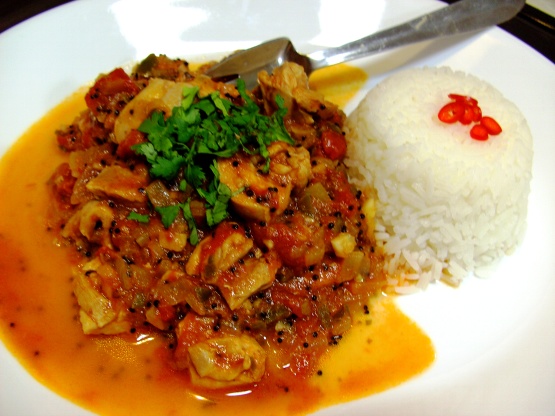 This is a dish given to me by friends from Sri Lanka. Tastes better the next day as the flavors mellow a little.

This was a simply flavoured, simple to make curry. I went light on the green chillies (used 8) I would use 10 or 12 next time to crank up the heat a bit. The freshly roasted and ground coriander really shone in this and I also added some garlic to it. I used chicken thighs as I prefer them in a curry. I cooked them for about 20 minutes.
Heat the oil in a wide saucepan and, when hot, add the mustard seeds.
Once the seeds start popping, remove the pan from the heat.
When the popping stops, return to the heat, reduce the heat and stir in the chilis and onion.
Fry for 8-10 minutes until the onions are soft.
Add the tomatoes and 1 cup water (if using canned tomatoes, drain juice into measuring cup and add additional water to equal 1 cup) and stir.
Stir in the tamarind and coriander seeds and season.
Add the chicken, mix well and cook over a medium heat for 8 minutes until cooked through.