Rita1652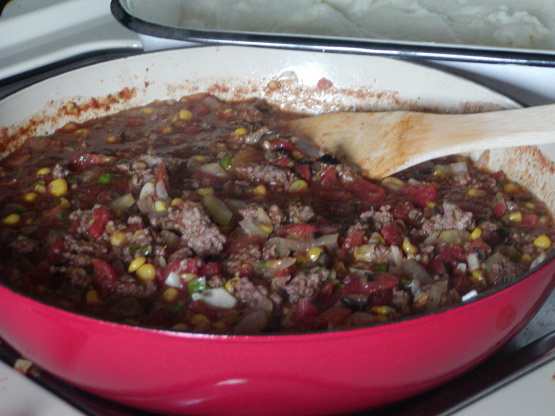 I purchased a little local cookbook the other day and this recipe was there. A dear friend of mine made the best Tamale Pie years and years ago. This recipe is so close that it could be the same.

Top Review by Tanali
I don't know if it was something I did, but this was a dinner disaster! I followed the recipe and baked it for over an hour. It ended up very mushy, I was very disappointed, especially since I worked on it for two hours. Any suggestions are welcome, although I wont try this again.
First prepare the crust by sprinkling the cornmeal with a small amount of cold water.
Bring the 4 cups of water to a boil in a medium sized saucepan.
Stir the moistened cornmeal into boiling water; cover and cook over low heat for 30 minutes.
Remove from heat and add the butter and 3/4 cup of the grated cheese, stir to mix.
Let mixture cool slightly and line a 3-quart casserole with 3/4 of the mixture, reserving the remaining cheese for the top.
While the cornmeal mixture cools, prepare the filling by browning the beef in small amount of oil.
Add the garlic and onion; cook until onions are translucent.
Add celery, tomatoes, chile, corn, salt, chili powder and Worcestershire sauce.
Cover and simmer for 10 minutes.
Add the olives, stir to mix and pour into prepared casserole.
Top with spoonfuls of remaining cornmeal mixture.
Sprinkle with reserved cheese and bake at 350°F for 45 minutes to 1 hour.