ajad2523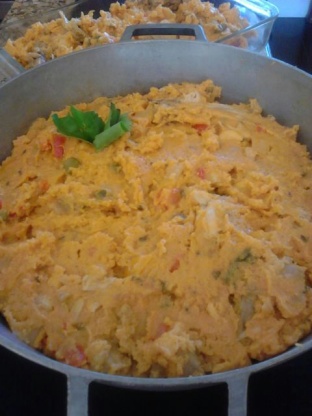 Found on World Recipes; posting for ZWT 7-Central America (Panama).

Five stars, more if I could! I wondered about all that vinegar for my hubby's taste, (I love vinegar, he doesn't), but oh wow, this recipe is a keeper. We both loved it. I wasn't sure exactly what to do about the polenta, so I ended up frying it in patties and pouring the rest over it before baking. I love recipes where the chicken is cooked with the skin on, then removed. It saves on some of the fat, but still gives all the chicken flavor. This was just delicious! I will make this again. ZWT 7 - Shady Ladies
Marinate the chicken with salt, pepper and oregano for at least 1 hour. Heat the oil over medium low heat in a big pan and add the annato seeds if using them. Add onion, peppers and garlic. Turn the heat and add the chicken to brown whilst adding the wine and vinegar little by little.
Add the tomato sauce puree, turn the heat down and let it simmer for about 1.5 hours with the hot chili pepper.Check the seasoning adding salt and pepper if needed and the capers and olives for the last 10 minutes.Take the chicken out, debone and skin it and put the meat back into the pan. Make the polenta according to package instructions, but using ¾ water and 1/4 chicken sauce . Put the tamal in a baking dish and bake for a further 20 minutes at gas mark 375º F.