Talula's Honey and Roasted Garlic Brie
Luschka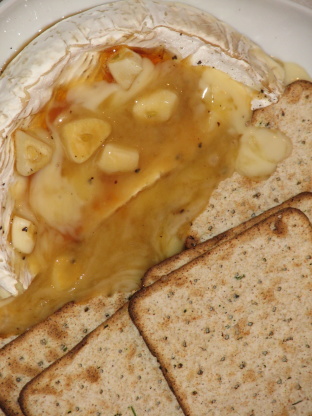 This is great, and has no pastry covering. Not for the calorie conscious :D. From Talula's restaurant

I had a few issues with this. I usually really enjoy baked cheeses and try to use them as starters regularly as they are so easy, versatile and flavourful. I liked the honey/garlic combo, but unfortunately the cooking time was a problem. The garlic was undercooked and the brie was totally melted, so in future I would recommend baking the garlic for about 20 minutes before adding it to the cheese, then baking the cheese for 5 minutes. The honey/cheese flavour was lovely, but the garlic definitely needs to be cooked longer for flavor and the cheese less for presentability. Reviewed for photo tag 2008
Preheat oven to 350 degrees F.
Place Brie in 6 individual baking dishes. Place 2 garlic halves in each dish around Brie. Pour 3/4 cup honey over each Brie. Season with salt and pepper.
Bake for 15 minutes. Remove from oven.
Quickly heat baguette slices in oven.
Serve Brie hot with crispy baguette slices alongside.