Chef Dee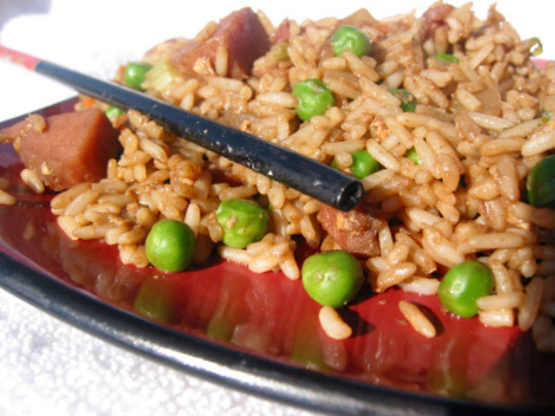 I was very impressed with this fried rice recipe. The flavour is wonderful, and it's so easy to make, why order take-out? I serve it with Lemon Chicken-Just Like Take out !.

Really good! Made it just like the recipe with ham....and used low sodium Soy sauce. Next time I'm gonna try it with mushrooms...thanks Chef Dee!
In a large skillet heat the sesame oil.
Add the celery, carrots, onions, and garlic stirring while cooking to tender crisp.
Stir in the frozen peas and ham or pork, continue to stir and cook until vegetables have softened.
Lower the heat and add the beaten egg, stirring until it is finely scrambled.
Add the soya sauce, and rice, blend well.
Splash a little more sesame oil over the rice if necessary.