RuPei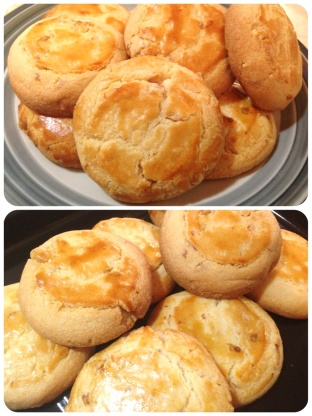 Taiwanese walnut cookies are very nutty and rich. We love to have them with tea. You can also dip them in milk or almond milk. This recipe makes 9 big cookies. Just double the recipe if you need more of these delicious and traditional Chinese cookies. Enjoy!!

Top Review by rikmik
Made these cookies today for some Taiwanese guests coming for coffee. Am wondering if something is missing from the recipe as the dough did not come together. I could not roll it into balls as it just fell apart. Added a little water to try to bind it enough to get it onto the baking sheet; it was all pretty messy. They are now cooked and I will serve them with apologies.
Preheat oven to 320 F; Line a layer of baking sheet on a baking pan.
In a mixing bowl, combine butter, powdered sugar, all-purpose flour and baking powder with a fork first. Use fingers to mix well and form dough. Cover and refrigerate for 20 minutes.
Add walnut and peanut into the mixing bowl. Gently fold nuts into dough. Divide into 9 pieces and roll each into a ball. Press each dough to make it a little flat, about 2/3 inch thick.
Transfer dough to baking pan. Leave about 2 inches between each piece. Apply beaten egg on dough surface. Bake until golden brown, about 15 minutes.
Let cookies set on the baking pan for 5 minutes. Transfer cookies to a wire rack and cool. Enjoy!