Tailgating With Franks and Beans from Longmeadow Farm
MsSally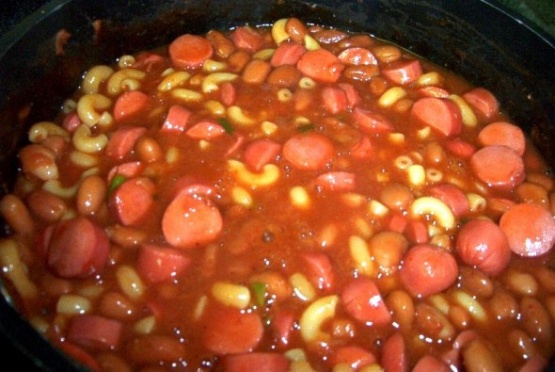 On a chilled Sunday afternoon, right before game time, I started the outside cook area up with a "whoosh!" Yes, I cook in our "pit" (an open campfire cooking area we had made just for this purpose.) I threw a bunch of soft and hard slabs of wood to make a sizzling fire that sparks and allows coals to develop for cooking and using my old dutch oven. I open the canned beans, and throw in my onions, celery and peppers into the dutch oven and allow the cooking begin.

Fabulous meal for a tailgate party :D I used turkey vienna sausage and a jar of prepared tomato sauce as I had no condensed tomato soup. Also I had to use simple pepperonis because Jalapenos are not too easily available here. It turned out wonderful anyway, and I wil sure make it again! Thanks for sharing this easy to make, tasty crowd pleaser, Andi!
Made for Second Annual Tailgate Party of the Diabetes Forum.
1

cup elbow macaroni, cooked (use leftover from day before or make ahead)
1⁄2 lb frankfurter, sliced (optional turkey, or vegan franks)

1

tablespoon butter (or use of olive oil, or Smart Balance buttery spread)
1⁄4 cup onion, chopped
1⁄4 cup celery, chopped
1⁄4 cup green pepper, chopped

1

jalapeno pepper, minced (optional also de-seeded and de-veined)

1

tablespoon garlic, minced
1⁄2 teaspoon chili powder, ground
1⁄4 teaspoon ground red pepper (optional)
1⁄4 teaspoon ground pepper
1⁄4 teaspoon salt (to taste)

1

(15 1/2 ounce) can kidney beans, drained

1

(15 1/2 ounce) can cannellini beans, drained

1

(10 1/2 ounce) can condensed tomato soup

1

cup water (adjust if too thick)

1

teaspoon vinegar
1⁄2 teaspoon Worcestershire sauce

3

tablespoons brown sugar

6

soft hamburger buns

2

tablespoons onions, minced (for topping)
Cook frankfurters, onions, celery, both kinds of peppers, and garlic in butter until franks are warmed and browned in the same saucepan.
Add seasonings, remaining ingredients, including cooked macaroni to this mixture.
Cover, and cook over low heat 12 to 15 minutes, stirring often.
Serve on warmed buns, sliced in half, adding some extra minced onion to the top.