GaylaJ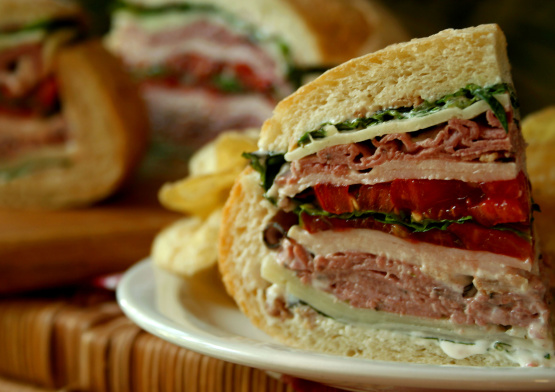 Easy to make up and take to the football tailgate party. Add cold beer and Maui chips and you may miss the kickoff. Enjoy!

I SO wanted to love this - maybe our expectations were too high after reading all the rave reviews. I made homemade bread, used Recipe #234392 instead of the bottled salad dressing and had a gorgeous fresh out of the garden tomato. I made the salad dressing 4 hours prior to making the sandwich - maybe that wasn't enough time to allow the flavors to meld. Or perhaps my cold cuts were lacking. I'm not sure but was disappointed in the results. I REALLY like the ingredients so I'm not giving up. Next time I'll try adding a layer of avacado and bacon. Now THAT sounds like a winner! Thanks for posting.
1

loaf unsliced round bread (about 9" diameter)

1

cup bottled sour cream and bacon salad dressing
1⁄3 lb sliced swiss cheese
3⁄4 lb sliced cooked roast beef
1⁄2 lb sliced cooked turkey

1

large tomatoes, sliced
Cut bread in half horizontally; hollow out center of each half, leaving 1/4 inch shell.
Spread 1/3 cup of the sour cream and bacon dressing into each shell.
Line bottom of each shell with lettuce.
Into the bottom of each shell layer cheese, roast beef, remaining dressing, turkey and then tomato.
Top with lettuce.
Replace top shell.
To serve, cut into wedges.