Tahini Dressing over Mediterranean Salad
PaulaG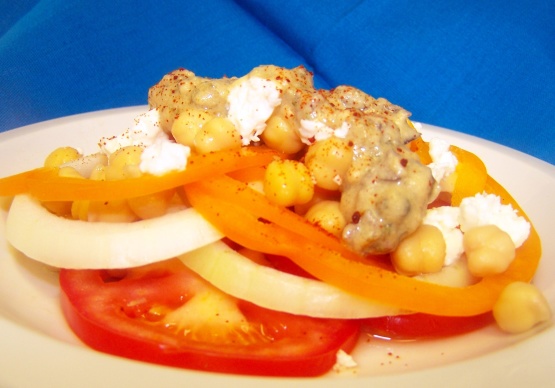 Developed for the RSC#7 contest, this is easy and the taste is flavorful! This also makes a great dip or sauce to serve over vegs., etc.

absolutely delicious! Nothing 'shy' about this dressing - full of assertive layers of flavour (just as I like it). Tried it first without the sugar - good, but a bit 'rough' around the edges...the 1/2 tsp of brown sugar really smoothed them out. Loved the veggy/cheese combo, which I used to fill a pita wrap. This is one salad that makes an excellent sandwich! Good going, chef.
Dressing

4

tablespoons sesami tahini

4

tablespoons extra virgin olive oil

2

tablespoons lemon juice, freshly squeezed
1⁄8 cup capers, minced
1⁄8 cup kalamata olive, minced

2

small garlic cloves, minced

1

tablespoon fresh parsley, finely chopped

1

tablespoon fresh chives, finely chopped
1⁄2 teaspoon brown sugar (optional)
paprika (to garnish)
salt and pepper, to taste

Salad

1

medium tomatoes, sliced

1

bell pepper, sliced (any color)

1

cup chickpeas, cooked and cooled (or canned)
1⁄2 medium red onion, sliced
1⁄4 cup feta cheese, crumbled
Mix dressing ingredients together in a bowl.If you would like a little sweetness, add the brown sugar. But try it without first. If the sauce is too thick, you may thin with a little water or lemon juice.
Slice vegetables for salad. Add chickpeas. Place on plate, salt and pepper to taste, but remember the dressing is full of flavor! Sprinkle feta cheese over the top.
Add the dressing and enjoy! The dressing is also good over felafels, vegs., and grains.
If taking on a picnic, pack the salad and the dressing separately. Mix together when serving.