Tagine Zaytoun for the Tagine!
Um Safia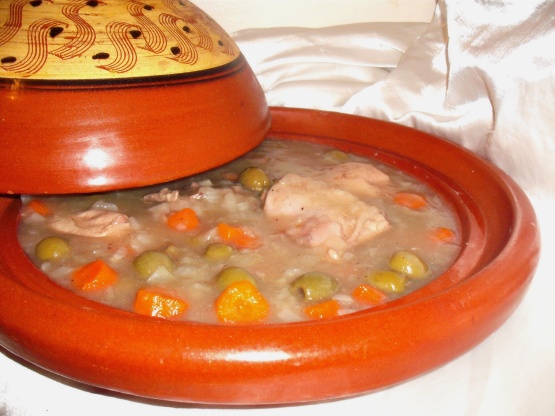 This is an Algerian tagine dish which should be cooked in a traditional Tagine. It has very subtle flavours and is quite different to the Moroccan tagines. The cooking time given is only an approximate as you may need a little less or a little more cooking depending on the size of the tagine used and where it is used - on the stove top, open fire, grill etc. Serve with Mashed potatoes or fresh baked bread.

Top Review by Bergy
This dish was enjoyed by all but I had to make a serious change in the recipe! When I first read the recipe I did not notice that it called for green olives as an important part of this recipe) - My friend does not like green olives so I omitted them - added 1 tsp chili flakes and the result was fantastic. I apologize, I realize that this changed the outcome of the recipe but it was wonderful - I will make it again for myself with the olives, Thanks UmSafia and I hope you are not too disappointed by my changes to your recipe
Place the olive oil in the base of the tagine and lightly colour the onion and then add the chicken and seal well turning frequently.
Add the garlic, cinnamon and stock made with 1/2 pint of boiling water and the stock cube. Mix well then add the carrots and mushrooms before seasoning well with salt and pepper. Cover and cook for 2 1/2 hours.
Remove the tagine lid and check to see how everything is cooking. If the chicken is cooked until very tender and the carrots are soft then add the olives, replace lid and cook for a further 10-15 minutes.
If the sauce is a little thin, mix together 2 tbsp cornflour with 6 tbsp water and slowly add a little at a time to the tagine over a high heat and stirring CONTINUOUSLY until the sauce is thicken to a custard consistency.
Serve with fresh baked bread or as we do in our house with plenty of mashed potato!