Tacos from Scratch (Way Better Than a Packet and Just As Easy!)
Stacky5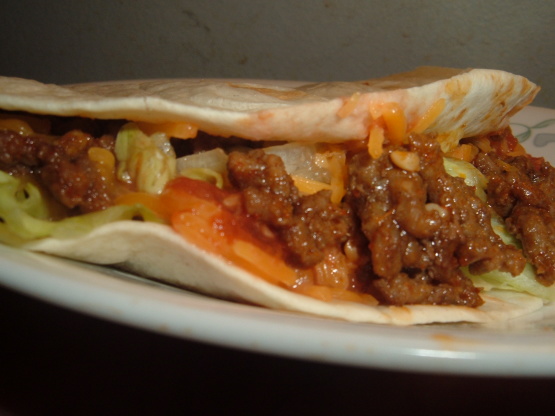 Those "taco seasoning" packets are usually so high in sodium and contain all kinds of unecessary junk. Give this one a try. You can adjust the seasoning to your liking, add onions when you brown the beef or not, whatever you like. I like to add fresh jalapenos when I add the sauce. Consider this a base recipe. Enjoy!

Very tasty! Usually we have leftovers but not this time! I left out the coriander because I didn't have any, but it was still great.
In a saute pan (I prefer non-stick but this isn't crucial), brown ground beef.
While beef is browning, combine the remainder of ingredients in a small bowl.
Drain beef. Return to pan. Add the sauce. Stir, and add some water if desired (I add maybe 4-8 oz.). Simmer uncovered until meat reaches desired consistency.
Serve on heated taco shells with cheese, sour cream, lettuce, tomatoes, olives, and hot sauce or however you prefer to use seasoned taco meat.