ChefDLH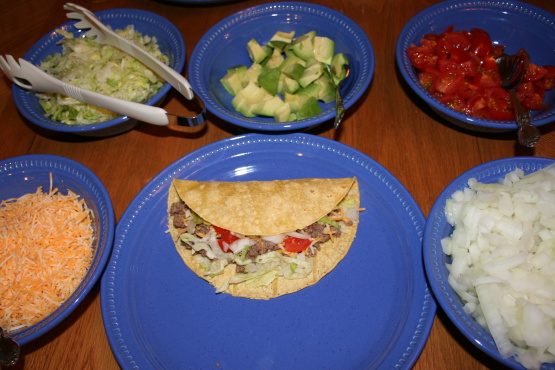 Homemade tacos are the best. I used this recipe and omitted the kidney beans and added diced sweet onions for flavor and they were great. The taco shells when purchased fresh and fried are awesome. One need not sacrifice health as you can pan fry in a tiny bit of olive oil and the result is perfection. I like mine less crispy so I pan fry on medium heat flipping the tortilla often till it has some color on each side. ( I don't submerge) Not hard not soft just right. Thanks for sharing the recipe with everyone.
Brown ground beef; add kidney beans and simmer for 5 to 10 minutes. Meanwhile, fry corn tortillas in hot oil to desired crispness.
In a large bowl, mix lettuce, tomato, cheese and avocado. Add beef and bean mixture and mix well. Serve immediately. Top tacos with sour cream or hot sauce if desired.