IngridH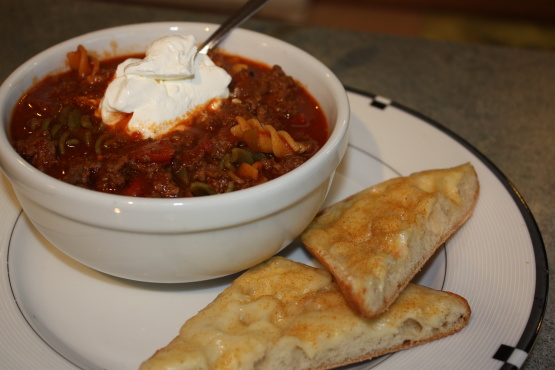 Here is a quick and easy recipe that is great! This is one of MY all-time favorites. I don't recall where I got this recipe. We have eaten this as a meal, have served it at a picnic with burgers and it makes great warmups. Give it a try, you will not be disappointed!

Good hearty soup the whole family enjoyed for dinner with corn muffins and a green salad. Doubled the recipe and was glad I did. Has a good amount of ground beef, perfect for my boys. Thanks for sharing the recipe!
Add chili powder and cumin to hamburg and cook until done. Drain fat. Add beef broth, picante sauce and tomatoes in juice to hamburger mixture. Heat to a boil, then add macaroni. Reduce heat and cook for 15 minutes or until macaroni is done.