MsSally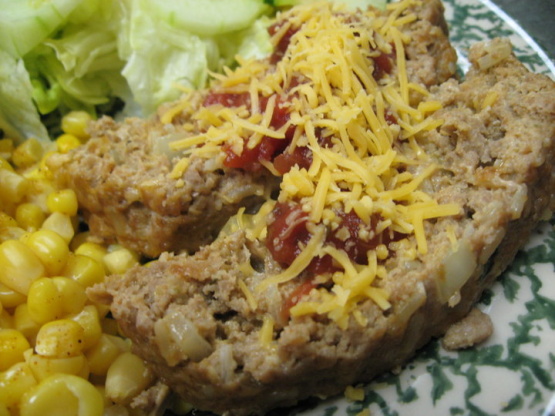 Ground turkey makes this meatloaf lighter and healthier; cheese and taco seaoning make it delicious. From betterrecipes.com. Again altered even further for calorie and fat content. You might not be able to find whole wheat bread crumbs. I usually de-crust 1-2 slices of whole wheat bread and dry in the oven and then crumble. The last two ingerdients are for the topping. Easily halved or even cut into thirds.
Mix together eggs, taco seasoning, black pepper, onion, garlic, tomato sauce, brown rice, bread crumbs and cheese.
Add turkey and mix until thoroughly combined.
Grease sheet pan with Pam
Form two loaves of meat mixture on pan.
Top each loaf with tomato sauce and cheese.
Bake at 375 degrees for 1 1/4 hour or until meat thermometer registers 165 degrees.
Let rest for 5 minutes before slicing.